Watch Video:
http://www.channel4.com/news/syria-jihadi-civil-war-assad-rebels
Ibrahim al-Mazwagi grew up in a middle-class family in London. But the 21-year-old jihadi left behind his home comforts to fight and die in Syria, writes Inigo Gilmore.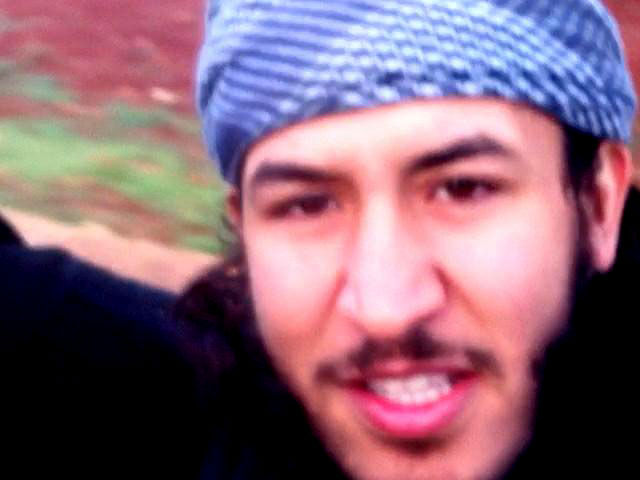 Scrolling, hour by hour, through an extraordinary treasure trove of previously unseen footage of the dead British jihadi fighter Ibrahim al-Mazwagi, I was struck by the sharp contrasts in his character. He appears intense yet humorous, heartfelt but also ruthlessly tough. Confused sometimes too.
In my film, al-Mazwagi is seen practising firing weapons at a range on a farm, fighting on the frontline and on his wedding night with his comrades, who turn up wearing balaclavas and carrying AK 47s, while the women are segregated and kept in another room.
One of the most striking things is the innocence of this 21-year old - but a man who also appears wise beyond his years. He gets a boyish thrill as he fires off weapons, showing off his skills as a marksman, hitting the same spot on the "man targets" - repeatedly striking right in the heart. "He ain't getting up," he says, laughing.
Jihad
He's funny - but also dark and deeply intense: at one moment joking about his "long hair day" and the next expounding his vision of jihad and why he's fighting to "liberate" Syria. He talks about crimes committed by Assad's forces, including the killing of innocent people and rape of women.
There is much talk of how the jihadi fighters are defending the honour of Muslims and Islam as a whole.
He says: "A Muslim is a Muslim. Is he in need of protection? Is his land being transgressed upon, is his honour being validated? Yes. Well, I'm there."
There are many others who are there too - jihadi recruits from North America, from across Europe and from Chechnya. We see Ibrahim as he bonds with a Swedish jihadi fighter called Abu Abdiramaan.
In the film Ibrahim extensively talks about his family and how he grew up in a middle-class family in north west London. He says: "I had a car and a job; my dad had a car and a job. You know, we were not struggling, but we were just normal."
He admits that his mother supports his decision to come to Syria - and his actions. At one point he's asked if his mother knows where he is and replies: "I remember I called my mother once. I told her I am going on an operation tomorrow. She said, 'Make sure you're not at the back. Go to the front'."
Laughing, he adds: "I don't think my mother loves me that much. No I'm joking. She must love me for her to say that."
But he is honest too in appraising their position, admitting that there are "two sides" and that many Syrians, including those in areas under rebel control, do not always welcome them.
'Terrorists'
One of the motivations for Ibrahim and two other jihadi fighters who appear on camera - a Canadian and a Swede - was that they apparently wanted to try to alter impressions about jihadis and accusations that they are "terrorists".
Ibrahim is emphatic, saying: "I did not travel half way across the world, spend a lot of money and left my family and people I loved to come here and blow up some kids. I could have easily done that back home. Why would I come here?"
The footage in our film was shot over several months by an American Muslim convert who describes himself as a "veteran filmmaker".
Bilal Abdul Kareem is himself an extraordinary character. He's previously worked as a presenter in London on the Islam Channel and even hosted a show on Huda TV in Egypt, such as programmes on "love and Islam".
After meeting him near the Syrian border with Turkey this week, getting to know him and to understand the story of these men, he explained his motivation for filming the jihadi group.
"I felt these men were very misunderstood and this was an opportunity to get to know them them and then let people judge for themselves."
According to Abdul Kareem, as long as the killings go on, the jihadi recruits will keep flowing into Syria. He says: "There is no systematic recruitment process as far as I have seen. It's just word of mouth, who you know. A fighter may call his friends back home in the UK and just say, 'Hey, I'm here. You guys should come'.
"I believe as long as atrocities are being committed against the Syrian people recruitment will be very easy. And there are many more just like Ibrahim."